I've just sent off the latest round of edits on my MS to a few beta readers, and I thought it might be quite cool to add some posts about my own writing journey to this blog. Here I'm going to attempt to address some woes and struggles I've faced during my time as an aspiring author.
I'm nowhere near published yet (haven't even got an agent) but from what I've heard and seen by talking and listening to authors online, everybody hits the same roadblocks while working on their novel, whether they're a novice or have multiple books published.
So here's a problem that's plagued me over the years – I know it's not exclusive to me, because one of my writing buddies and close friends has also had this worry in the past. It's not something I see talked about too often, and this post is going to be my attempt to not only calm myself down, but hopefully put some others' minds at ease too.
So. The problem.
There I was, working hard (okay, procrastinating) on edits of my YA contemporary fantasy novel, which I've been working on since I was 14. Yes, ten years. Yes, I know I'm slow. NO, I'M NOT FINISHED YET. And then, one day I scrolled down on my Twitter feed to see a tweet gushing about a soon-to-be-published book.
Nothing new in the book world! There are books announced pretty much every week. But there was a difference this time. As my vacant gaze passed over the tweet, I felt my blood run cold.
The plot synopsis sounded extremely familiar. In fact, it sounded…just like the MS I was working on.
I freaked out immediately. With a little more detective work, it turned out it wasn't exactly the same premise, but that didn't reassure me much. But there were enough similarities to make me panic, and the worst part – the main character had the same name as my protagonist.
Oh, so what, you might say. Just change the name!
Yeah, no. I actually did change the character's name already – it used to be kind of silly, and after various comments on it I changed it to something more common. But I get attached to names, so that was an arduous decision, and I spent plenty of time researching and considering other names for her. I settled on the current name partly because it was a common name that I hadn't actually heard for a YA protagonist before, and it was also Hebrew (my MC is of Jewish heritage and there's other Jewish stuff in the book, so this was intentional).
The other stuff? Well. It was queer, and had a mystery plot that sounded veeeeeery similar to mine. I panicked. I had a contemporary fantasy story about a queer teenage witch investigating a mystery. This contemporary fantasy book was also about a queer teenage witch – with the same name – investigating a similar mystery. I flipped OUT.
Just going to mention, I never thought for a second that my ideas had been stolen. I'm not calling anyone a plagiarist! I never even posted my stuff online, and I don't know this author at all. I'm just drawing attention to the fact that sometimes this happens – you've been working on a book for years, and then you find one (maybe it's been published for a while, maybe it's not out yet) that seems a bit TOO similar. And you immediately start freaking out because you're not as original as you thought, and everyone's going to think you copied this person, and maybe you should just stop writing altogether because everything you think of has already been done and they did it better so WHY SHOULD YOU EVEN TRY?
And, breathe.
I went screaming to my friends. And after they'd calmed down my hysterics, they pointed out a few key things:
The world-building is likely incredibly different. From what we could pick up from the blurb (and what was later confirmed by an extract I read), the way we approach magic, and how it effects society, is completely different.
The author is American. I'm British. That might not seem like much, but there are lots of books that don't cross the Atlantic. There's no UK deal confirmed as of yet, and even if there was, the tone and voice is likely to differ a lot. I've also tried to tie it in quite closely with British society and current events, so…it's not going to be the same as a book set in modern America. While the two countries have a lot in common, they're not the same – there are some pretty big cultural and social differences that are sure to pop up in writing, especially as they're both set in the modern world.
A major element of my book is the inclusion of a species that doesn't appear in the US book. They're literally one of the biggest parts of the novel. That totally flew over my head when freaking out about this other book. Another good reason to stay calm! That's a huge difference right there.
So they're both queer books by queer writers. GOOD. I am not gonna deny other people the chance for more f/f fiction just because one book sounds a bit like mine. From what I've read, it looks like the romance plots are really different anyway, which is even better – more variety in queer rep! Yay!
The fact that this book sold, and is being published, is actually a great sign for me. It can be a comp title when I query. It's a sign that agents and publishers may actually LIKE what I've written. The book's not even out until the middle of next year and I want to be querying before it comes out – so it's not like I've missed the boat.
At the end of the day, we have to remember not to get too snobby about our writing. We are not the first people to come up with certain ideas, and even if we have similar plots, or characters, or settings, they're likely going to manifest a lot differently than we might think.
One of my favourite examples:
A young boy leaves his home to learn and train to use his power alongside others like him. He's the Chosen One, part of a prophecy that has been in place since before he was born, and he is the key to ending the war between good and evil. He grows up, falling in love with a girl and losing people in the process, he's got a knack for flying, and his mentor is a wise, older man with a beard who also has these special powers. He eventually defeats the Big Bad villain with the power of love.
(And the main theme is scored by John Williams.)
Harry Potter, right?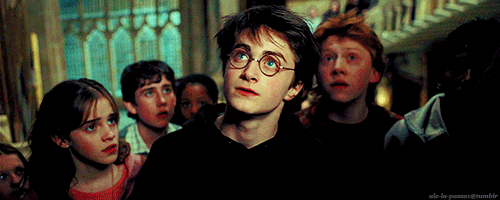 Or…Anakin Skywalker?
No-one is going around accusing J.K. Rowling of ripping off George Lucas, or vice versa. But this is what happens when we condense stories down to their basics, or pick and choose bits of them. You could probably write summaries for Harry Potter and Star Wars that are both entirely accurate but sound completely different from each other! I'm pretty sure I've also seen a version of the above that could be applied to Harry Potter or Luke Skywalker rather than Anakin, so there's another reason why we all need to CALM DOWN. (I picked Anakin because I'm pretty adamant that the original 6 episodes of the Star Wars saga are HIS story rather than Luke's, but whatever).
But this is what I try to remind myself of when I run into a blurb or announcement of another book that sounds a bit similar to mine. Hell, I knew from the start that it wasn't original – I basically took my favourite bits of Harry Potter and Buffy the Vampire Slayer, made them gayer and put them in a blender – so why am I shocked now that someone else has had a similar idea? And the more I read about it, the more differences I see.
And ultimately…I don't think readers will care that much. I want to write a book that is queer and magical and funny and heart-wrenching, and there are readers looking for that too. So some of my future readers may have read this other book first – so what? Isn't that good? I am happy that there's more f/f fantasy coming, because I wrote a book I wanted to read and couldn't find. I'm happy to see more queer girls in fantasy books, because I needed those when I was 16 and confused about my sexuality and just wanted to retreat into magical worlds. I think that honesty and authenticity will come through in my writing – I made it very personal to me, and nobody can take that away, no matter how similar their story is, because it's mine. I wrote about my experience and understanding of my bisexuality. I wrote about my life growing up in the south of England as a teenage girl going through an awkward phase and struggling with exams while the world got scarier. I wrote the diversity that I saw around me, I wrote the feelings I had for boys and girls, I wrote the friendships that meant the world to me, I wrote the magic that I wished I had in my life.
And if that's how you approach your writing, then you can't lose that originality. Only you can write your story. Even if your plot sounds a little like someone else's, it's going to have your stamp all over it. If you go out trying to copy someone deliberately, then don't be shocked when it sounds just like their work. Make it yours. It sounds like a bad cliche, but write from the heart, and you'll find the pieces all fit together in their own way, even if individually they sound like something that's been done a million times before.
It's realising this that is what has kept me going for the past few months, and I'm glad of it – I've sent it to betas and already have had some amazing feedback that's reminded me of why I started writing it in the first place. And if the author of this other book is anything like me, she's poured herself into her book too.
So if you see a blurb that makes you panic, just take a step back. Breathe. Make a list of the differences and remember that even if you have similar ingredients, you've likely got completely different and unique cakes. And never forget why you started writing that story in the first place.